SAUTI'S TRADE AND MARKET INFORMATION PLATFORM
Take a tour of our versatile information platform to see how we enable East African women in trade to access trade and market information using their mobile phones. Now available through SMS, USSD or WhatsApp.

TRY PLATFORM DEMO
Trusted, Accessible, and Relevant Information
Sauti works with trusted partners to provide SMEs with verified, up-to-date, and officially sourced trade and market information.
Sauti's platform supports East African communities with COVID-19 awareness information.
Ensuring reliable access to accurate and up-to-date information is essential to effective COVID-19 response and recovery efforts. In partnership with health authorities, governments, and international development organizations, Sauti's platform is delivering vital COVID-19 awareness information to remote communities with limited connectivity.
 LEARN MORE: COVID-19 AWARENESS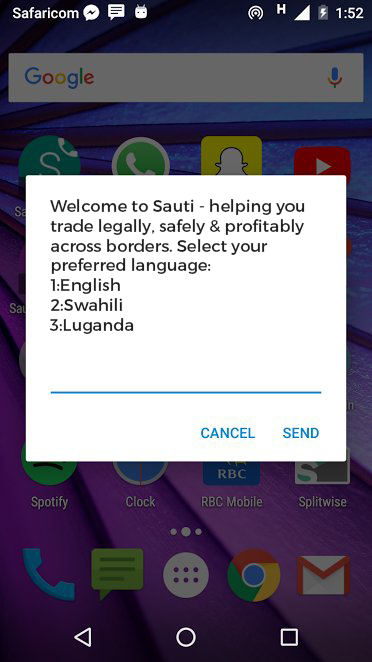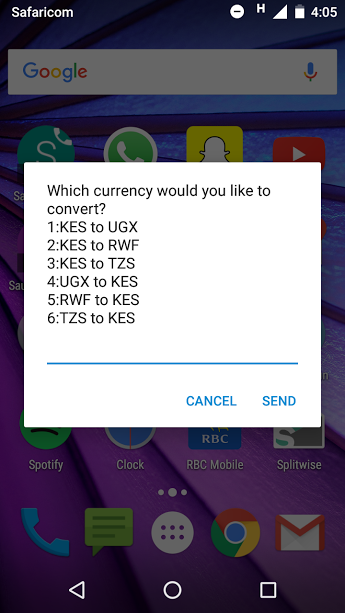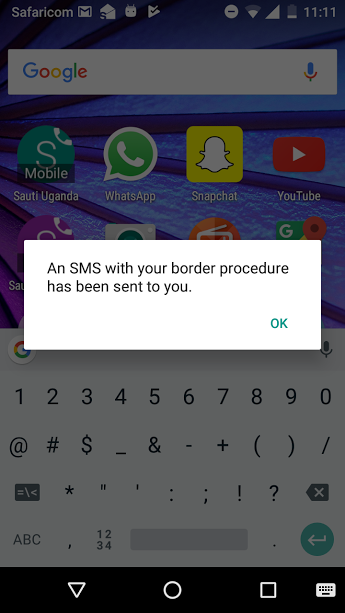 Co-created with East African women in trade
We incorporate feedback from women in trade into design processes to deliver innovations that East African communities want and need.
Real-time information, simplified for ease of use
Simplified and verified regulatory procedures

for cross-border trade

User-friendly tax calculator for EAC and non-EAC products
Real-time international exchange rates
Weather forecast information for 6 countries
Products and markets that matter to women in trade
Wholesale and retail price information

for

110 products

and

77 markets

in

8 East African countries
SMS price updates

for recently searched products

AI-powered market intelligence recommendations

for traders' businesses
Accessible features that close the digital information gap in East Africa
Targeting gender-related opportunities and constraints

to MSME competitiveness

Opportunity to

report positive or negative border experiences and crowdsource anti-corruption activities

Language support for

English, Kiswahili, Luganda, Kinyarwanda, Somali, and Lukiga
Overview of Sauti's Information Features
Market Prices
Find daily market prices for products and connect with sellers in markets across East Africa.
Sustainable Agricultural Info & Services
Good agricultural practices to grow your farm produce.
COVID-19 Info
Get information on how to protect yourself and others from COVID-19.
EAC Trade & Tax Info
A tax calculator, trading procedures, and documents for trading across the EAC.
Exchange Rates
Use our calculator to convert currencies using real-time currency exchange rates.
Finance & Management Services
Tips and best practices for small businesses, and available local services.
Report a Border Experience
You can anonymously report your positive and negative border experiences.
Business Formalization Info
Business registration requirements, permits, and license applications.
Climate Adaptation and Forecast Info
Find climate adaptation and weather forecast information across East Africa.
Legal & Anti-Corruption Info
Learn about legal and anti-corruption support in Kenya.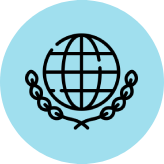 Policy Communications
Find more information about policies, donor projects, and partners, and helpful contacts in your country.
Health Info
Info on health services, including mental, menstrual, sexual and reproductive health as well as resources for GBV.
Low cost and sustainable technology
Our affordable technology solution creates sustainability benefits for SMEs that integrate the Sauti information platform into their businesses.
Women in trade consistently choose the Sauti platform over other information channels because it reduces their information search costs and gives them up-to-date and relevant information to level the playing field in East Africa's competitive markets.
When compared to competing information channels in East Africa, Sauti is consistently more cost-efficient, reliable, and capable of adapting to diverse trade activities.
 WATCH: SAUTI PLATFORM DEMO VIDEO
Dial to access the Sauti Trade and Market information platform
Now available through SMS, USSD, and WhatsApp
Sauti is like a secret partner in my business – it's there to give me information before I go to the market and help me estimate my profit. Before I even leave my house I know the price of groundnuts in Gulu and Lira, the current exchange rate and the amount of tax I will pay.
Edna Mudibo
Cross-Border Trader, Busia, Kenya
Data insights on East Africa's cross-border trade
Analyse key demographics, trade, and information demand attributes gathered from interactions with over 127,000 East African cross-border traders.