Introducing Sauti Trade Insights – Data From 60,000+ East African Traders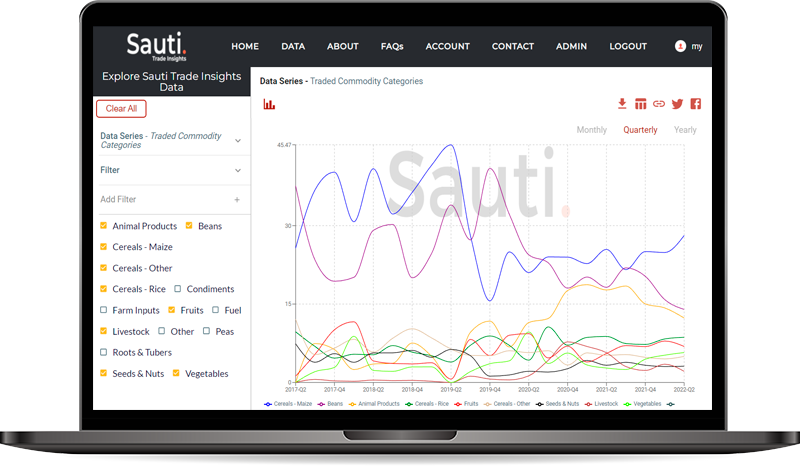 EXPLORE SAUTI TRADE INSIGHTS
Up-to-date and representative data on East Africa's domestic and cross-border traders is difficult to find. Sauti's new Trade Insights data portal crowdsources data on East Africa's traders at an unprecedented scale to help researchers, practitioners, and policy makers improve their intervention targeting, program reach, and solution design.

GET TO KNOW EAST AFRICA'S TRADERS
We leverage innovative crowd-sourced data from multiple mobile-based trade and market information services to provide datasets with unprecedented scale and granularity. Our data allows you to generate insights based on targeted demographics such as youth, women, or farmers. Our commodities datasets also lets analysts isolate trade behaviour based on specific value-chains like maize, beans, and sorghum.
OUR DATASETS
With 21 trade-related datasets populated with data from up to 60,000+ domestic and cross-border traders, Sauti Trade Insights is the most comprehensive trader-related dataset ever produced. Each dataset can be used to filter the others, enabling extremely targeted drill-downs to get the representative data you need. Our data can aid in common trade facilitation questions, such as "what commodities are traded by women traders?" or "how does age affect traders' relevant business information?".
DEMOGRAPHICS 
Age
Border crossing frequency
Border crossing location
Country of residence
Education level
Gender
Grow / produce their own products
Preferred language
Primary occupation
Smartphone access
TRADE INSIGHTS
Traded commodity categories

Traded commodities

Traders' destination country

Traders' destination market


Currency exchanges
BUSINESS INSIGHTS
Relevant business information
Relevant information, by agency
Relevant trade documents
Relevant trade procedures, by commodity
Relevant trade procedures, by commodity category
Relevant trade procedures, by destination country