Sauti Trade Insights COVID-19 Bulletin Q1/Q2 2021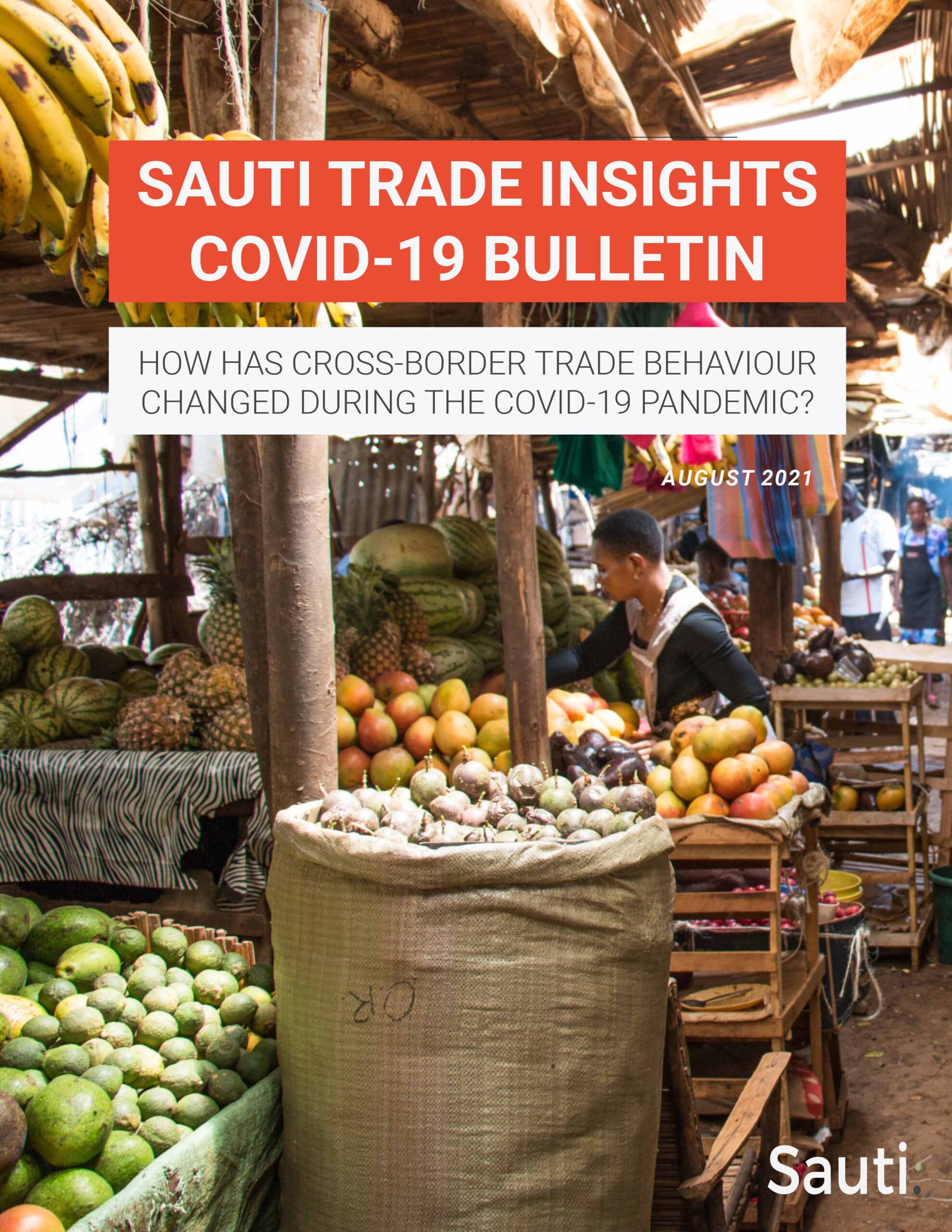 READ THE REPORT
The global COVID-19 pandemic continues to impact the trading activities of East African cross-border traders. While some progress has been made to combat the spread of the virus in the region, such as the rollout of vaccines, East Africa's traders are still navigating the social and economic challenges of the pandemic. Most notably, traders safety concerns, cross-border movement restrictions, and intra-state lockdowns have had extremely disruptive impacts on those that rely on the movement of goods to sustain their livelihoods.
This COVID-19 bulletin aims to illustrate the changing state of trade in East Africa as traders adapt to the pandemic. Leveraging Sauti's East Africa's embeddedness with traders, we present the 2021 Q1/Q2 behavioural and user data from our regional network of trade and market information platforms.
For policymakers, solution designers, and researchers, traders' interactions with our platforms provides us with unique and far-reaching perspective into the business behaviour of traders in the East African community. When combined with Sauti's demographic data, we have unprecedented opportunities for higher-frequency analytics and drill-downs to identify specific opportunities for the trade facilitating community.
In addition to our usual reporting on Kenya, Rwanda, Tanzania, we have expanded this bulletin to include data from Ugandan traders. We find that in Kenya and Rwanda, trade to cross-border destinations increased from last quarter. However, the opposite was the case for Tanzania and Ugandan cross-border trade. Comparing the same periods to last year, we find that cross-border trade destinations is still below 2020 levels in Kenya and Rwanda, indicating that the pandemic is likely to have significant long-lasting effects in the vibrancy of the regions cross-border trade sector.
Additionally, while our last report highlighted the impact of the pandemic for women cross-border traders from Kenya, the insights from this report show that women's cross-border trade activities, as a proportion of all trade activities from women, increased between quarters.
Our insights suggest East African trade is far from recovery to pre-pandemic levels. Further, while vaccine inequality witnessed between developed and developing nations is an important global issue, East African states are also extremely vulnerable to vaccine inequality within-country. It is likely, then, that the rollout of the vaccine is likely to reach periphery and vulnerable populations – such as women cross-border traders – last.
While we note recent international vaccine donations to the members state of the African Union, we are mindful of the vaccine rollout campaigns, their heterogeneous reach within member states, and the limited time in the race against new COVID-19 variants. Throughout East Africa's recovery, we will continue to use our unique perspective and disaggregated data to inform interventions and research that can help mitigate and adapt to the pandemic's disruption to traders' in the region.