Sauti Trade Insights COVID-19 Bulletin Q2/Q3 2021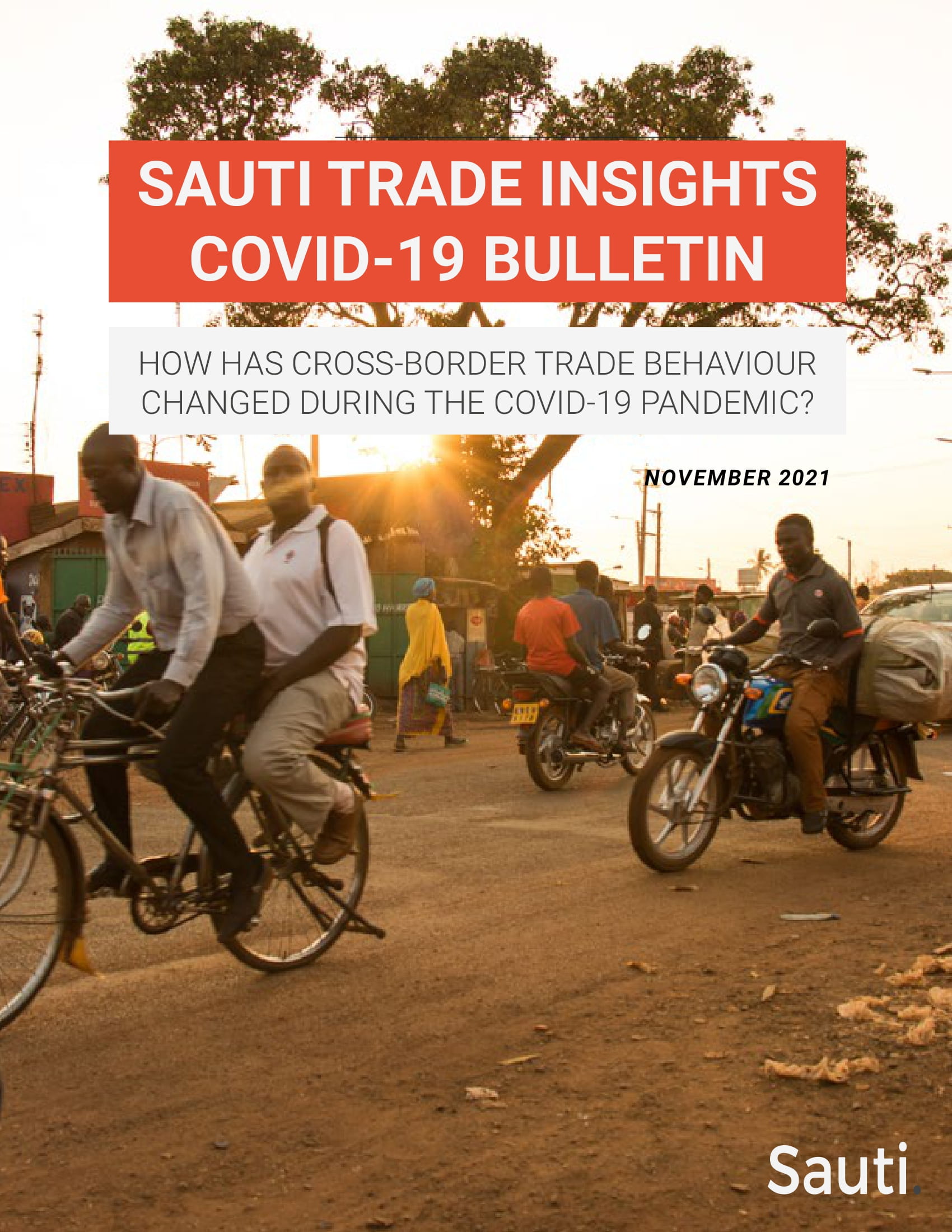 READ THE REPORT
Uncertainty related to the COVID-19 pandemic continued to affect the trading activities of East African cross-border traders in 2021 Q2/Q3. Proportionally, domestic trade activity remains at an all-time high compared to previous years as East Africa's traders continue to limit their cross border activities in all surveyed countries.
This COVID-19 bulletin aims to illustrate the changing state of trade in East Africa as traders adapt to the effects of the pandemic. Leveraging Sauti's East Africa's embeddedness with traders, we present the 2021 Q2/Q3 behavioural and user data from our regional network of trade and market information platforms. 
Reporting in this bulletin includes data on Kenyan, Rwandan, Tanzanian and Ugandan traders. In all country cases, we find either a stagnation or decrease in cross-border trading. Kenya in particular saw a significant 10 percentage point (pp) decrease in trade to cross-border destinations between the Q2 to Q3 period. Compared to the same period last year, we find little evidence to suggest that aggregate cross-border trading is returning to 2020 pre-pandemic levels – suggesting a permanency to the disruption of the pandemic.
Additionally, this report also highlights the unique gender-based impacts of the pandemic on women cross-border traders. In particular, we highlight a significant decline in cross-border trading activity for women in Kenya (-16 pp) between the Q2 and Q3 period, in contrast to Ugandan women traders who do not show a similar decline. The different effects are likely due to the already low levels of Ugandan traders participating in cross-border trade during the Q2 period.
For the first time, we also have made our data available through Sauti's TradeInsights data portal. The TradeInsights data portal provides an innovative resource for supporting research, solution designs, and near real-time context mapping. This report also uses our improved data weighting methodology to more accurately represent the empirical behavioural patterns of East Africa's cross-border traders. See the technical detail section for links to explore the data.
Our insights suggest a continued dampening of cross-border trade activity in the region. Where cross-border price differentials have driven traders' activity in previous years, small-scale traders are having to seek out and adapt to new domestic arbitrage opportunities. This is likely placing new stresses on domestic market systems, which must now additionally support new entrants to the arbitration market.
With the data presented in this report, we offer a subnational and gender-based analysis of the market systems that support East Africa's traders. As the effects of COVID-19's disruption become more long-lasting, this research will inform interventions and the turn from pandemic mitigation to traders' adaptation.
Empowering cross-border traders with market systems data
Have a specific question about how our data applies to you? We're always ready to discuss how you can embed our insights into your programming or research!