Sauti Trade Insights COVID-19 Bulletin Q3/Q4 2021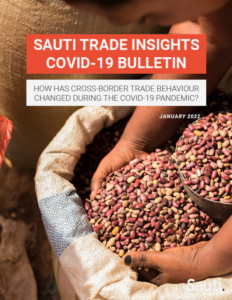 READ THE REPORT
The global COVID-19 pandemic has affected all sectors of the world economy and society. Trade in East Africa has been especially vulnerable to the effects of the pandemic. As the pandemic enters its second year, the impact is becoming entrenched, creating a new 'normal.' This unprecedented transformation to the trade sector requires nuanced examination so that cross-border traders, development policy practitioners, and solution designers can effectively navigate the new contours of the sector. 
This COVID-19 bulletin aims to illustrate the changing state of trade in East Africa. Leveraging Sauti's East Africa's embeddedness with traders, we present the 2021 Q3/Q4 behavioural and user data from our regional network of trade and market information platforms.  
For policymakers, solution designers, and researchers,  traders' interactions with our platforms provide us with a unique and far-reaching perspective into the business behaviour of traders in the East African community. When combined with Sauti's demographic data, we have unprecedented opportunities for higher frequency analytics and drill-downs to identify specific opportunities for the trade facilitating community. 
Reporting in this bulletin includes data on Kenyan,  Rwandan, Tanzanian and Ugandan traders. With the exception of Kenya, we find that in Tanzania, Rwanda, and Uganda trade to cross-border destinations either remained low or decreased from last quarter. Comparing the same periods to last year, we find that cross-border trade in Kenya increased for the first time, reversing a year-long trend towards domestic trade destinations.
Additionally, while our last report highlighted the impact of the pandemic for women cross-border traders from Kenya and Uganda, the insights from this report show that cross-border trade in the Q4 quarter has largely been driven by women. In fact, as a proportion of all women's trade activities in Kenya, cross-border trade destinations appear to be returning to pre-pandemic levels at a faster rate than men.
This quarter, we also observed differing seasonal effects between women and men traders. We saw both genders modify their marketing behaviour in favour of maize products, however while men traders reduced their involvement in beans, women traders reduced their involvement across multiple products. When considered in aggregate, the results suggest that male traders have more capacity for seasonal product specialization, in comparison to women traders.
Our insights suggest East African trade is out of the most volatile period of the COVID-19 pandemic. However, our data suggest a mixed rate of recovery between countries. Throughout  East Africa's recovery, we will continue to use our unique perspective and disaggregated data to inform interventions and research that can help mitigate and adapt to the pandemic's disruption to traders' in the region. 
Empowering cross-border traders with market systems data
Have a specific question about how our data applies to you? We're always ready to discuss how you can embed our insights into your programming or research!