Smartphone Adoption Among Traders in Kenya and Uganda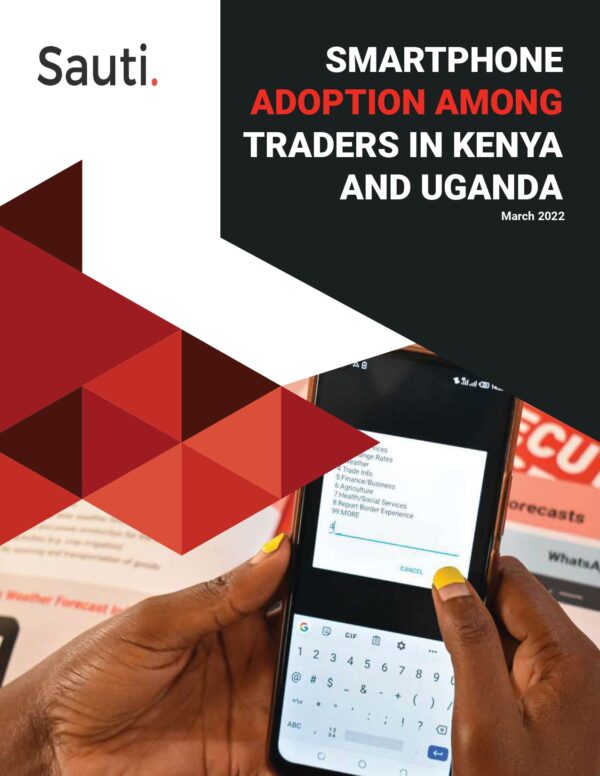 READ THE REPORT
Despite the growth of smartphones among Africa's urban populations, traders often operate with basic feature phones. This report details findings from Sauti East Africa's surveys of smartphone access among Kenyan and Ugandan traders. 4,136 participants were surveyed in Kenya and 1,334 in Uganda. Participants were selected from users of Sauti's market and trade information platform.

REPORT FINDINGS
Smartphone penetration is extremely low in Kenya and Uganda. With 19% and 10% of traders reporting access to a smartphone in each respective country.
Smartphone access was found to be slightly more ubiquitous among women (18%) compared  to men traders (14%). Adoption was much higher among women without formal education (18%). compared to men without formal education (9%). This may suggest that women are faster adopters of smartphones than men.
Smartphone adoption was not found to be significantly higher among traders aged less than 30 (16%) compared to older traders (18%).
Domestic traders in both countries are slightly more likely to have smartphones (avg. 18%) compared to cross-border traders (avg. 12%).
The traded commodities by traders with basic feature phones compared to those with smartphones are relatively similar. Smartphone users were found to be slightly more diversified in fruits and animal products, and less concentrated in cereals and beans.
The data highlights that a significant majority of Kenyan and Ugandan traders are using basic feature phones for their business activities. While there may be some opportunities with specific demographics, smartphone penetration among all trader sub-samples was still found to be relatively low. Moreover, the data highlights the vastness of the digital divide among Kenyan and Ugandan traders and traders' limits in technological capacity to access digital resources – which often require internet-enabled smartphones. Development programming and digital innovations must consider these limits when designing regional trade facilitation solutions.
Empowering cross-border traders with market systems data
Have a specific question about how our data applies to you? We're always ready to discuss how you can embed our insights into your programming or research!